TRAILS
'The Seriously surprising Adventure Trail' is a tried and tested trail that comes with 11 points to pause and learn more about the Easter story.
You can place the 11 points (each an A4 sheet) around your church grounds like signposts or in a designated area in a park OR families can put them around their homes.
Each group of participants recieves a map of Jerusalem to Emmaus which is their answer sheet and they fill in answers to simple questions as they journey on the road to Emmaus together.
There are additional resources too – colouring in sheets, video stories, an Easter Resurrection poem and loads of family activities to try.  It's an excellent trail if you've never run a trail in your parish before and you could always provide the weary travellers with some tasty treats once they have completed the 11 stations and filled in their answer sheets.
Muddy Church Lent and Easter Resources are here!  Check out this stunning Easter trail.
You can do this as a trail that you set up in the parish grounds, or, with permission, in a public space where people take walks and invite people to partake in their pods and bubbles.  Alternatively, you can team up with your family, your parish or your ministry team and commit to going out once a week or each day in Holy Week with onea different trail prompt each day and reflect anew on the Easter story.
Flamecreativeblogspot has a really simple Trail for the littlest to do Easter Story Easter Egg Hunt
LEGO CHALLENGES
Share the story (and a little competition!) throughout Holy Week as families are challenged to read the Bible story and build a lego reconstruction of the scene.
Families can send photos of the creations to be used in an online service OR you can log on for a short zoom each day, read the Bible story together, do a short, inclusive challenge and then let them begin their build.  They can bring the finished work to the zoom the next day.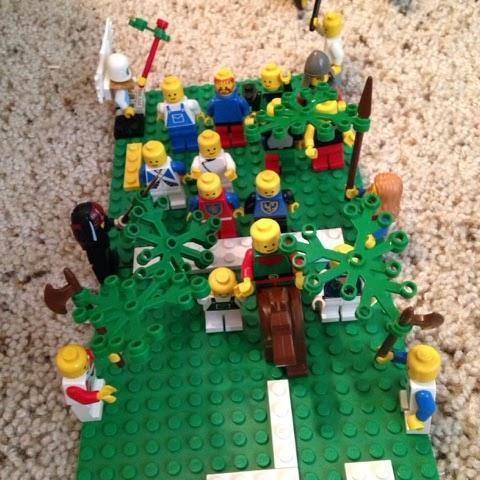 Here you will find a template with instructions, Bible readings and challenges for each day, both in adapted and original format.  We've also added a parish Facebook page, which is a great place for uploading daily challenges, and some extra resources such as 30 day challenges for the extreme enthusiasts and some excellent lego animations.
SELF CARE
Love yourself through Lent – In a really challenging season why not focus on self-care this Lent?  Here are 40 self-care ideas to choose from.  Do this just for you, or join with other leaders or other parents to encourage one another to intentionally self-care throughout Lent.
Similarly, Muddy Church has a 40 moments for 40 days self care sheet.   You can find the PDF here.
Here's what Muddy Church founder Lucie says about the resource:
40 Moments is taking some time through Lent to enjoy the things around us, connect with nature and God.  Simple ideas which can be done whenever you want, it doesn't have to be one a day.  But spending purposeful and intentional moments and taking time to listen to what God may be whispering.