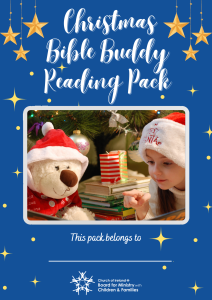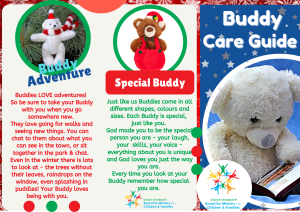 If your families are fed up with Elf on the Shelf and all that it brings, why not encourage them to take up advent reading plan as a whole family using the Bible Buddy reading plan.
The aim is to encourage families to read the Bible together, or older children to read it for themselves. In this pack the sections of the Bible telling the story of Jesus' birth are printed out along with a page where the children (and adults) can draw or write their thoughts as they listen.
It is not a comprehension test, it is a way for Children to express their reactions questions and  feelings when reading the Bible. It is to encourage families to "wonder" and journey together, to learn from each other.
If they already have a Bible reading buddy they can use the plan over the course of Advent, each week reading and chatting about the passages that tell us about Zachariah & Elizabeth, Mary, Joseph, The Shepherds and the Wise men.
If you haven't had a Bible Buddy adoption day in your church then this is a great time to do it. You could use it as part of an All Age Service, as part of your Christmas Party or any other Advent / Christmas event you are having.
To organise an adoption drive:
Firstly buy your buddies! You can pick up a range of small teddies such as the small TY beanieboos or similar, even dinosaurs or action figures – whatever you think the children would like as their buddy.
Then using the posters below you can invite the families to an adoption drive. Each child gets to choose their Bible Buddy and receives a certificate of adoption, a care instruction pack and the Bible reading plan. You can hold an event where all the families are mixing and chatting together encourage that sense of community, or hold the adoption event at the end of a family service.
There is also a wonderful short free video made by Go Chatter called "Wrapping Paper" which could be played during the all age service or event which focuses on a teddy who is chosen despite his flaws and the video relates this to how God chooses, loves and restores us.  Click on the images below to download the resource pack or to go to the video download page.