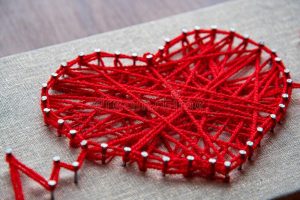 Heart of Nails
You will need:
piece of wood
Cardboard heart template
String/wool
Hammer
How to:
Choose a piece of wood and lay a heart template on top
Choose a number of nails and carefully hammer them into the wood, outlining the heart shape as symmetrically as possible.
Hammer the nails into the wood deep enough into the wood to stand deep enough but firm.
Remove the heart template.
Weave the thread around the heads of the nails to outline a border, then from one side of the heart to another, creating your own design.
You might like to make a 3D design by pushing the thread/wool to the bottom of the nail and then repeat weaving at the top of the nail.
Talk About:
Good Friday turns bad into good. Jesus' dying on the cross for us was the best worst thing ever. Jesus never did anything wrong, but he loves us so much that he suffered the nails of the cross in his flesh because of all the wrong things we do.
ALL AGE WORSHIP PRAYER IDEA
You could source a larger piece of wood and have most of the nails hammered in but add the final two or three during an All Age Service and then invite people to weave their piece of wool into the heart to symbolise how God holds them in his heart.