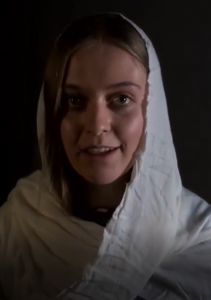 Welcome to the Church of Ireland Children & Families Ministry interactive video trail.
The trail and accompanying video takes families deeper into each character's experience as we journey together through the story of Jesus' birth.
This trail can be used in a variety of ways:
Participants complete the trail as individuals or as families in their own time using their mobile phones or tablets. They find the printed character sheets around your church or outside and click on the relevant link in the video to hear and read this character's story. To do this they will need to scan the QR code which is on the printed sheets at the start of the trail and will require either good mobile data reception or use of the church Wi-Fi. The videos have music and people speaking so please also keep this in mind if participants are using mobile phones – they will need space between themselves and other families so that they can hear what is being said, or they will need headphones.
As a family service you can show the video on a central screen linked to your laptop and audio fed through your church / hall speakers. The printed Character pages can be placed around the church / room and children can choose who they will find next according to the choices on the video. You then watch the video together and can discuss as a group or in smaller groups.
Watch the trail at home as a family – if you want you can hide the character pages around your house and send the kids off to find each one as you work your way through the trail.
Download the printable pages by clicking the Donkey image below – you can either print and laminate them or send them for professional printing onto plastic / corriboard etc.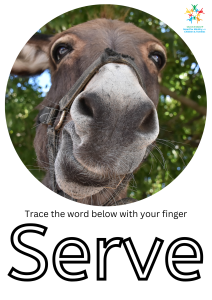 You can access the trail video here:  https://cfm.ireland.anglican.org/interactive-nativity/ 
You can also watch the video explainer here: https://youtu.be/lNcZ8wEnQxw