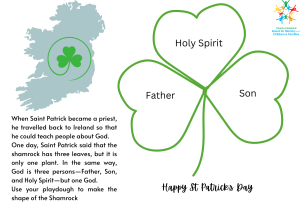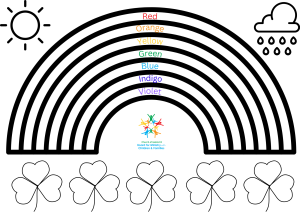 Ideal for Children's clubs, toddler groups or use at home, we have two different mats to print – one can be used to help explain the trinity to older children – or parents, the other is just for fun but can also be used to talk about rainbows, God's promises as well as St Patricks Day.
Print and either laminate or place in a plastic document cover and use masking tape to stick it to a tray or non varnished table. Click HERE to download the PDF
To make your own playdough: 
Makes 1 coloured ball
Prep 10 minutes
You will need
8 tbsp plain flour
2 tbsp table salt
60ml warm water
food colouring
1 tbsp vegetable oil
Method
1. Mix the flour and salt in a large bowl. In a separate bowl mix together the water, a few drops of food colouring and the oil.
2. Pour the coloured water into the flour mix and bring together with a spoon.
3. Dust a work surface with a little flour and turn out the dough. Knead together for a few minutes to form a smooth, pliable dough. If you want a more intense colour you can work in a few extra drops of food colouring.
4. Store in a plastic sandwich bag (squeeze out the air).